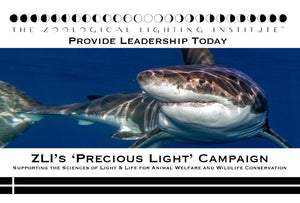 ZLI's Precious Light Scholarship
Regular price $150.00 Sale
Future leaders need to be equipped with knowledge and sensitivity if life is to be lived on the planet. ZLI's Scholarship Program is dedicated to giving S.T.E.A.M. K-12 students the intellectual resources they need to help us all succeed.

Fund a ZLI Scholarship through the Precious Light Campaign, and help the sharks that you love. The Scholarship will be named after you, recorded both on the ZLI web-site and on the published ZLI Annual Report for ages to come. Work produced through the scholarship, will aid understanding and sensitivity towards sharks. 
Our current Program Supports a diverse group of high school students as they pursue careers in Fashion Design. Our purpose is to enhance their appreciation of light, wildlife and the role of animals in community resilience around the globe. Students receive a $150 stipend at the beginning of their studies, to pay for materials and books. This support helps them develop their talents and abilities towards fruitful careers that benefit us all. Our guidance encourages the exploration in the photobiology of sharks, how sharks are important and what sharks need from us to survive and thrive safely with environmental purpose.
Your investment improves the lives of these young champions, as they work to help us an all those around them.